Ronson Cigarette Case & Lighter Combinations are especially beautiful and highly collectable. Ronson began production of the first case-lighter in 1929 with the Lytacase. The Lytacase was a big hit with Smokers and Ronson management seized the opportunity by producing many other models, some with vivid art deco geometric designs in fashionable colors of Red, Green, Blue, Black, Tortoise & White.


Beauticase, 1936
Ivory enamel and chrome. Cigarettes are lifted as case is opened. Ronson "Vee" lighter fitment opens from side of case. Also made in Rich Dureum finish.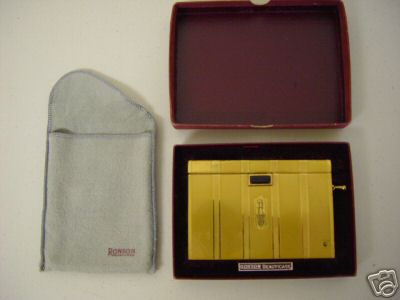 Magnapact, 1935
Ivory enamel with red accents and chrome. Cigarette lighter and Ladys compact. This is the early style with the side actuated lighter mechanism

Ultracase, 1939
Very popular art deco case lighter.

Lady-Pact 1939
Lighter and Lady's Compact. Dureum finish and enamel. Looks very much like a 10-a-case but smaller. Lighter and compact only, no cigarette storage.

Mastercase, 1933
This is a very nice example of the Gold tone finish Ronson called "Dureum" with lovely florial design. The mastercases wee a very popular item for Ronson and they produced enough to meet the demand. Note in the photo the size of the "Ears" that hold the lighter mechanism, ealry models have wide ears and later models have smaller ones. THIS model was produced in Canada and has early small ears.

Double Decker, 1937
This Case lighter combo was never seen advertised and was probably made in small quantities. Unusual design because of the double hindge, the putton on front is pressed to release the lid. Dureum plate and enamel.

Commander, 1939
Beautiful 14K gold plate and engine turned case with Fine Grain English Morocco Leather. Holds 15 regular sized Cigarettes.

Queenpact, 1936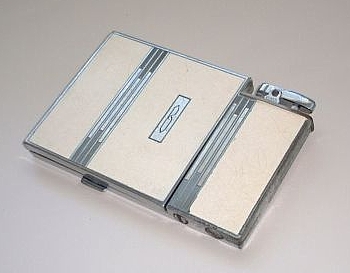 Tuxette, 1931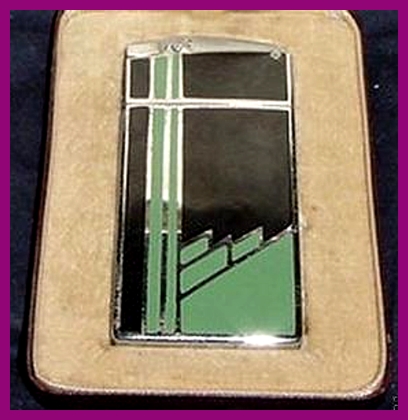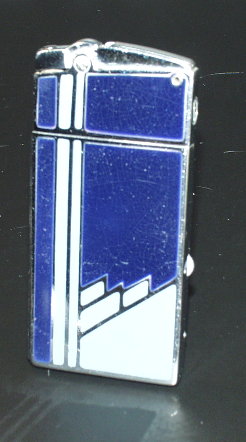 Superpact, 1933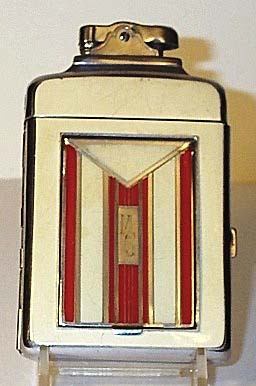 Queenpact with Watch, 1936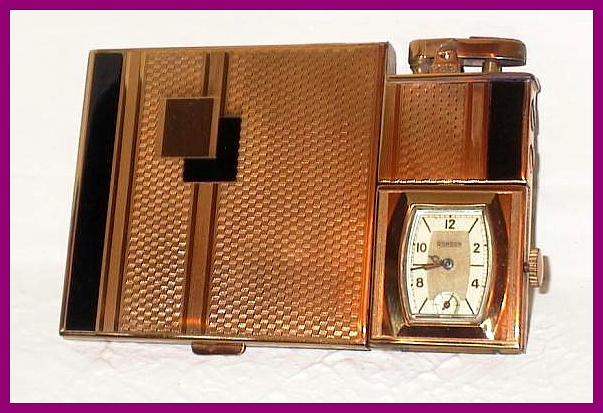 ---
Vintage Ronson Product Reports:
Vintage-Ronson now provides comprehensive reports for your vintage Ronson products.

Vintage-Ronson reports are designed to provide information for novice and collector alike. Each report will present historic information, from several available resources, covering the main areas of interest: Patent Information, Product Catalog Information and Current Market Valuation Assessment.

Many Ronson lighters, smoking accessories and other products have great value, as yours may! The benefit provided by a Vintage-Ronson Report is a proper understanding your items history and value in today's collector's market! The cost of the report is justified by the advantage you gain from accurate information in an easy to use format.

This service is exclusive to the Vintage-Ronson.com Internet community.

On to the Next Page...



Back to the beginning

Sign our Guestbook!
You can also list items Wanted or For Sale
Ronson items ONLY!

Question about a Ronson lighter or product?

Do you have an interesting Ronson item? Write us and tell us about it!

If you have a Vintage Ronson Lighter in need of Repair, follow this link.