The Ronson Art Metal Works produced exciting and contemporary Statues which have really stood the test of time. The statues were so well made and in such interesting designs that many people who have been lucky enough to own one end up holding on to it.

Ronson "Kicking Girl" 1930's
Realistically portrayed "Dancing Girl" with amazing detail, as shown in chrome with Gunmetal base also produced in Bronze finish.

Ronson Lady & Dog 1930's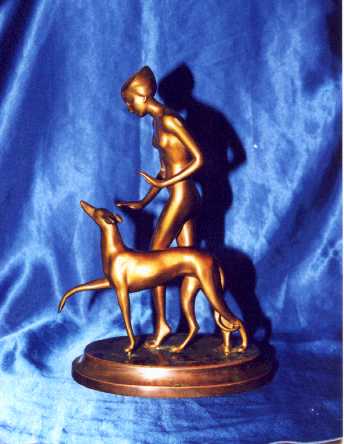 Ronson Lady 1930's
Artistically posed nude in Gold plate on marbleized base.

Hooded Lady 1930's

Ball Dancer 1930's

Ronson Elephant Statue
Marked L.V. Aronson 1926. Probably attributable to the "Jumbo" popularity of the time.

Ronson Terrier
I'm not certain if this belongs in this catagory it is more likely a Paper Weight. Also used on bookends and desk sets.
---
Vintage Ronson Product Reports:
Vintage-Ronson now provides comprehensive reports for your vintage Ronson products.

Vintage-Ronson reports are intended to answer your questions about your Vintage-Ronson item and includes available information from the main areas of interest: Patent Information, Historic Product Catalog Information and Current Market Valuation Assessment.

Some Vintage-Ronson items have great value, as yours may! Think of the benefit of this information! The cost of the report is justified by the advantage you gain by understanding your items value in today's collector's market.

This service is exclusive to the Vintage-Ronson.com Internet community.

On to the Next Page...


Vintage-Ronson.com; Guest Book, Sign it Now!
Sign our Guestbook!
You can also list items Wanted or For Sale
Ronson items ONLY!

Question about a Ronson lighter or product?
Ronson Question? Find an answer here!
Do you have an interesting Ronson item? Write us and tell us about it!

If you have a Vintage Ronson Lighter in need of Repair, follow this link.
Vintage-Ronson.com; Lighter Repair Resources