History of Ronson/A.M.W.


What began in 1886 soon became a leader in artistic metal goods. The first lighter came in 1913 and what really became the industry standard was the world's first
"one-motion" lighter in 1926, the BANJO.

To this day, Ronson is still the Cadillac of american lighters.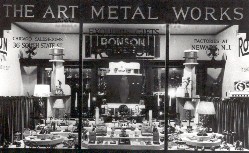 Ronson Window Display, Chicago
A Century Of Progress

Ronson Club Exclusives
A native of Oakland, California, Urban Cummings is a mechanical engineer with 38 years' experience with high energy physics. His life-long interest in invention and technology is somehow vaguly responsible for a serious addition to collecting lighters. A former smoker, nothing would please him more than to possess every lighter that Ronson made. His passion for collecting has been encouraged by his co-addicted wife, Christine, who's intuition for accumulating treasures has led to a collection of lighters beyond belief.

The Ronson Book
First Edition

Urban Cummings' first book has become the favorite of many lighter collectors, and is widely referred to on the internet, antique markets and in other lighter books. It has uncovered the wonderful treasures made by the Art Metal Works, Louis V. Aronson's creation, later known as Ronson Corporation. The book chronicled Ronson/A.M.W. history , its invasion of Hollywood and How to identify and date 53 years of lighters from one of the world's best known businesses.

Out Of Print